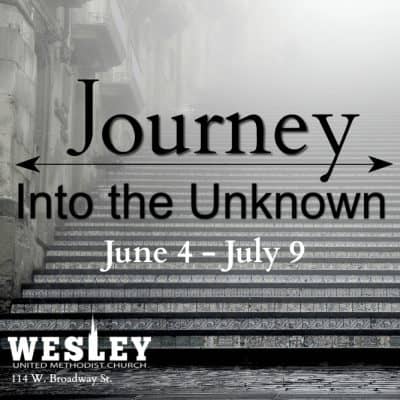 Star Trek, Star Wars, the Lord of the Rings. All television shows and movies that show individuals exploring the unknown. Superman, Captian America, The Hulk. Why are we so fascinated with exploration, the unknown, and Super Heroes? Are they a brief excape from our problems, an offer of hope, or simply an attempt to see someone succeed in their own journey through life? The Bible allows us to ask many of these same questions. We see examples of how God's people advance and then retreat, and individuals perceived failures and demise. Yet time and time again God's faithful followers rise up and continue to preserver.
With all of this uncertainty surrounding us, how do we move forward faithfully – both spiritually and physically – and avoid becoming immobilized by fear? Join us Sunday, June 4 through July 9 as we look deeply into the first few chapters of the book of Acts and a time where characters begin to navigate changes without Jesus present to guide them. Often when our journey shows no end is when we see glimpses of God's presence that encourages us to continue moving forward.
Come join us as we  "Journey Into the Unknown" together!
Join us for worship Sundays at 9am for our traditional service and 10:30am for our contempo service.  Nursery will be available both services. There are also opportunities to join a sermon series small group to discuss the sermon. Our small group on Monday at 11:30am will continue to meet at church throughout the summer.  Email or call the church office for more information: office(at)winonawesley.org/507-452-6783.