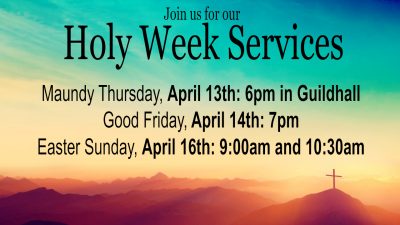 Begin your Holy Week by worshiping with us on Palm Sunday at either our 9:00am traditional service or our 10:30am contempo service. On Thursday, April 13th we will be having a Seder meal with dinner in our Guildhall at church. Experience home prepared dishes and fellowship. Join us as we  take time to reflect upon Christ dying on the cross for our sins at our Good Friday service, and then celebrate with us at either service on Easter Sunday as we rejoice that Christ has risen from the grave.
Nursery will be available at both our 9:00am and 10:30am services on Sunday, April 9th as well as Sunday, April 16th. And Sunday School for elementary age children will be offered at our 10:30am service both Sundays as well.
All are welcome to attend. Please click on the image to access our normal scheduled worship times as well as more information about worshiping at Wesley.